Fire-fighting systems -

Hydraulic spray nozzles
Hydraulic spray nozzles
In this section we show our comprehensive range of hydraulic nozzles that includes all standard models of full cone, flat fan, spiral nozzles, open sprinklers, variable spray nozzles, bell-shaped nozzles for tanks and vessels as well as a new range of water mist nozzles that can be used in a wide variety of fire-fighting and industrial applications.
All of our spray nozzles are manufactured in our production facility, in full compliance with the most stringent quality standards, and can be supplied with a complete technical documentation including detailed reports of all the tests carried out in our lab for flow rate, spray angle, spray quality and droplets size.

Most of our standard spray nozzles are available from stock or in short delivery time.
For customized products on request, for products manufactured in special materials or for relevant quantities, please contact our Staff who will be pleased to give you all information and technical support you need.

Equipment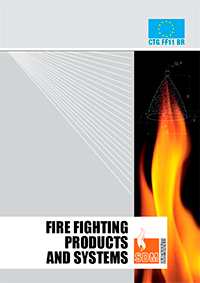 Fire-fighting products and systems Catalogue